About Us
We offer a complete range of plants from over 800 European growers through our international dispatch depot in Holland. For 52 weeks a year we are able to meet your seasonal demands with a full selection of: Garden Plants, Seasonal Flowering Pot Plants, House Plants and Interior and Exterior Landscaping Plants.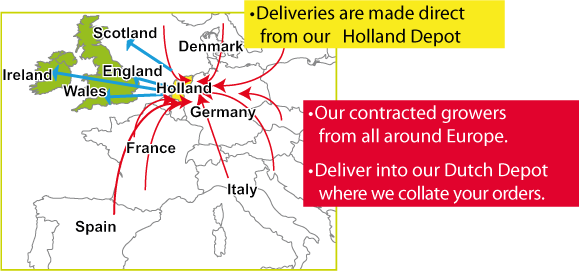 Minimum Delivery
Our minimum delivery is just one trolley, your order can be made up by the single tray, half shelf, full shelf or by the specimen to ensure you offer your customers the best choice from our vast selection.
Availability
Our 'Looking Good' Availability Lists are updated weekly and we also provide customers 'Monthly Specials' lists with details of superb promotional offers. In addition our categorised Product Guides are designed to help customers plan ahead and to pre book to guarantee stock.
Minimum Order
Our Minimum order is one trolley which can be made up of mixed products each bought by the single tray or shelf enabling you to make best use of our excellent product selection.
How to Order
Please fax/email/post/phone your order through to us and register to use our online shops. Should you have questions. Please don't hesitate to contact us so we can assist with your enquiry.
Dispatch
We dispatch from Holland on Tuesday, Wednesday, Thursday and Friday evenings and we request 48 hours notice to collate your order.
Delivery Times
Deliveries are made within 48 hours of dispatch by our approved hauliers Van Der Gag Transport or Tunderman FFT Transport. In temperature controlled vehicles.
We would welcome the opportunity to supply you and look forward to discussing your requirements.
Best Regards
Boyd Batchelor
Sales Manager